Haneda Shuzo Co.LTD
羽根田酒造 株式会社
UZEN SHIRAUME Junmai Ginjo 羽前白梅 純米吟醸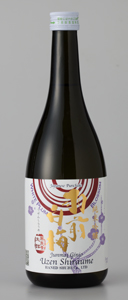 UZEN SHIRAUME  
Junmai Ginjo 
300ml 720ml 
The first impression is that it is a softly defined sake with a soothing acidity and a calmness that is felt over a long-lasting aftertaste. However, when it is warmed ("kan"), the separate elements of its taste take on a strength and give the sake a stout impression. Each of these elements come to an extremely good balance.
When cooled down ("kan-zamashi") it has a melon-like aroma and matches well with dishes with somewhat a strong taste such as salt-grilled flatfish, cream cheese, meatloaf, and bruschetta with liver pate, which is rather unexpected from the sake's first impression.
Basically, it is a great match with vegetable dishes including eggplant, potato, radish, or cabbage used as their main ingredient. And to serve with any meat dishes, chicken may be the best choice amongst all.


Suggested accompaniments Bagna càuda, Vinegary salad of cucumber and wakame,
Salted and Vinegared mackerel
Grilled bamboo shoots with cheese, topping with black olives and bacon chips.
Braised chicken and vegetables Chikuzen style,
Cream cheese, Pumpkin gratin, Salt-grilled flatfish
Suggested serving temperature

15-45℃

DATA Ingredients : Rice (Yamada-Nishiki), Water, Koji (Aspergillus oryzae)
Milling ratio : 60%
Alcohol by Volume : 15%
Maturation period : Over 2 years at room temperature