Suwa Shuzo Co.LTD
諏訪酒造 株式会社
SUWA IZUMI Junmai Awa-Yamada Nishiki 諏訪泉 純米 阿波山田錦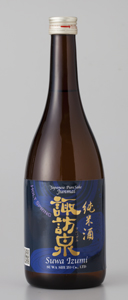 SUWA IZUMI 
Junmai Awa-Yamada Nishiki 
300ml 720ml 
This is a well-matured, rich sake. At first tasting, the acidity seems to be low, but this is because the other elements also taste strong, and soon you will sense that the sake possesses plenty of acidity. Especially when it is warmed ("kan"), its elegant, acidic flavor increases. At the tail end of the taste, the roof of the mouth senses a hint of muscat grapes, and this is what gives this sake its sophistication. It goes well with so many different types of dishes that you might find yourself drinking too much. Enjoy kan at a lower temperature with a dish of chicken dumplings with fresh cream for a mellow combination. A hot kan to accompany chicken wings cooked in soy may allow you to enjoy the richness of chicken even more. This sake agrees with pork and fish dishes as well, or even with various Italian cuisines such as "bagna cauda" which is a must-try pairing indeed!


Suggested accompaniments Bagna càuda
Simmered yellowtail with daikon [radish],
Marinated deep-fried chicken
Roasted Japanese yam with cheese
Suggested serving temperature

45-60℃

DATA Ingredients : Rice (Awa Yamada-Nishiki), Water, Koji (Aspergillus oryzae)
Milling ratio : 60%
Alcohol by Volume : 15.5%
Maturation period : Over 4 years  
SUWA IZUMI OHTORI Junmai Ginjo 諏訪泉 鵬 純米吟醸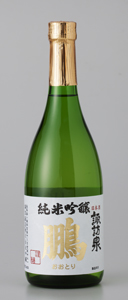 SUWA IZUMI OHTORI 
Junmai Ginjo 
300ml 720ml 1800ml 
This is a jukuseishu (matured sake) matured for over 3 years, from the 2009 brewing year. Its golden gleam faintly tinged with brown bears testament to its maturity. Its gorgeous fragrance is unique to the Yamada-Nishiki brewers rice from which it is made. In the mouth it gives off a full-bodied flavor, and after swallowing, the mouth is left with a firm acidity. The lingering scent is one that faintly resembles bitter chocolate.
When it is matched with yuzu-flavored pickled Chinese cabbage, their sourness neatly complements the acidity of the sake. Or when matched with a stewed pork and potherb mustard dish, the sake gives off a sort of a citron accent that suddenly emerges and then disappears just as quickly, leaving behind a lingering aftertaste of umami.
If you have a dish of eggplant stewed in tomatoes and lots of fresh cream with this sake, the taste of tomatoes can enhance the sweetness of the sake and allow for an almost refreshing smoothness. Bitter chocolate is also recommended with this. In addition, there are also Western dishes that bring out the sweetness of both the ingredients and this sake, such as Bechamel cream-stewed turnip and minced chicken, or even a chicken cream pie!


Suggested accompaniments Stewed pork and potherb mustard/Mizuna (pot au feu)
Bechamel cream-stewed turnip and minced chicken
Eggplant stewed in tomatoes
Yuzu-flavored pickled Chinese cabbage
DATA Ingredients : Rice (Yamada-Nishiki), Water, Koji (Aspergillus oryzae)
Milling ratio : 50%
Alcohol by Volume : 16.0-16.9%
Maturation period : Over 3 years